DOUCE AVENTURE  ran her last race on March 2nd at Cagnes/Mer (6th in the Prix de Kiruna). « Quite quickly in contact with the first ones, but nose up, struggled with them until two hundred meters from the goal where she was dominated » geny.com
After a good career, she enters Haras des Rouges Terres.
---
See his Pedigree
Qualified 5/11/2015 LE MANS – 1'18 »9
Music 6a0a5a9a(17)0aDa8a6a2a1a
Sex F – 2013- Dress BAI
Victories 4
Earning : 105 860€ – record : 1'11 »7
Father :  SAM BOURBON
Mother : NEW YORK
Breeder and Trainer : Louis BAUDRON – Owner : Ecurie Louis BAUDRON
---
Louis BAUDRON her coach talks about his career : « Douce Aventure is the good New York Family, who made Texas Style and Fighter, and many other very good fillies. She made a very good meeting in Cagnes/Mer the previous winter by winning 3 races, and thereafter she won at Vincennes and finished second in a Quinté.
She was a filly who had a lot of speed, she is a good rookie at Haras, she will be bred by Ready Cash in the spring of 2018 « .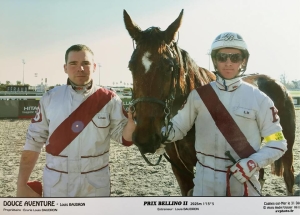 Review the « Prix IDA » May 5, 2017 in Vincennes (1st), « Prix Bellino » II on December 31, 2016 in Cagnes/Mer, « Prix Dollar de Meslay » January 25, 2017 in Cagnes/Mer.