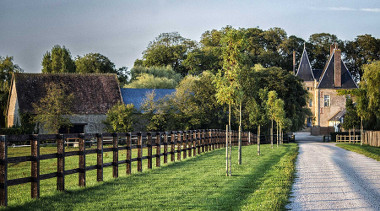 SCEA Société d'Entraînement Louis BAUDRON
Haras des Rouges Terres
61390 SAINT-LEONARD-DES-PARCS
Phone : 02 33 27 46 78
Fax : 02 33 28 89 29
Secrétariat and booking: Sylvia Partaix
Photo credits : Ema Photographies, Elise FOSSARD-Photo et communication, Arnaud LECOMTE
From Sées: take direction Mortagne au Perche (D3). 
At the roundabout, follow the direction Neuville Near Sées (D50). 
Continue for about 5kms, at Calvary turn right. In the village of 
Neuville near Sées follow the direction St Léonard des Parcs. 
Make about 5kms and the stud is on your left.

From Chailloué: Take the D303 Neuville near Sées, at the intersection
 on the right, continue on the D50. 
At Calvary, turn left and follow the directions above. From Merlerault: 
take direction Courtomer (D4). 
At about 3.5kms, turn right towards St Léonard des Parcs and 
St Léonard des Parcs on the right towards Neuville Near Sées.
At Calvary on the right and the stud is about 1km on your right.