His journey
A family link with the horse? No, not this time! Gwenn frequented the racetracks of Dreux and Chartres, accompanied his Turkish dad and the taste of the horse and the vocation came naturally.
Gwen, 29, comes from the school of jockeys of Graignes-AFASEC (Association of Training and Social Action Racing Stables) in the Channel, where he obtained a BEP.
He then made his first proof, at trot, at Luc GABORIT, Haras de Beauregard (Seine et Marne): 8 victories in his counter over this period! It was at Beaumontel (27) that he continued his career at Christine DELAMARE.
A period of 5 years at Bruno MARIE really made it emerge! 50 races that really made him progress …
Driver at Louis BAUDRON Stable He is now in the Louis BAUDRON team for almost 2 years (April), as a driver. He also fulfills the missions related to the preparations of the horses each morning.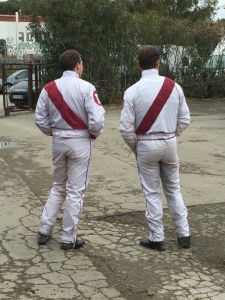 Winter meeting of Cagnes/Mer
He is currently on the winter meeting of Cagnes/Mer and has managed for the last few days the 8 horses still in the running.
Meeting pleasant for the mildness of the weather, he likes the autonomy with which he works and for the confidence which is given to him. Another few weeks of races in the sun before returning to Normandy …
He likes to share his strong memory of the winter of 2017 on this same meeting where he had won 4 victories with AIGLE JÉNILOU!